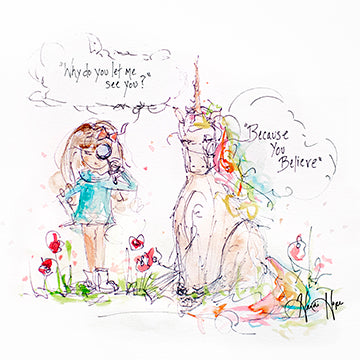 From Heidi's original series of Unicorn sketches.  This printable is a 10"x10" 300dpi digital reproduction of the original series written, sketched and signed by the artist.
Artwork and writing is copyright Heidi Guerard of Heidi Hope Photography®  File may be printed for personal use.  File may not be reproduced or published for commercial use without permission of the copyright owner.
Inquiries email info@heidihope.com
This is a license agreement between you and Heidi Hope Photography®. By downloading content from heidihopebackdrops.com, you accept the terms of this agreement.
No Unlawful Use. You may not use content in a pornographic, defamatory or other unlawful manner.

No Commercial Use. You may not use digital downloads for any commercial, promotional, advertorial, endorsement, advertising or merchandising purpose.  You may not distribute files to commercial printers or manufacturers. 

No Standalone File Use. You may not use content in any way that allows others to download, extract, or redistribute content as a standalone file (meaning just the content file itself, separate from the project or end use).

No Use in Trademark or Logo. You may not use content as part of a trademark, design mark, tradename, business name, service mark, or logo.

No False Representation of Authorship. You may not falsely represent that you are the original creator of a work that is made up largely of licensed content. For instance, you cannot create a digital work based solely on licensed content and claim that you are the original author.

No Products for Commercial Resale. You may not use content in connection with any goods or services intended for distribution (for example, printed backdrops).  Digital backdrops are only for use with your private photography clients and may be printed only for their personal use.

No Electronic Templates. You may not use content in electronic or digital templates intended for resale or other distribution (for example, website templates, business card templates, electronic greeting card templates, brochure design templates).

No Removal of Signature.  The Heidi Hope Signature may not be removed from digital paintings.